Description
Vitamin C just as Mother Nature makes it. No synthesizing. No culturing. No added ascorbic acid. Just pure vitamin C complex from four of nature's richest, 100% organic fruit sources: acerola, goji, amla (amalaki) and kiwi. This is vitamin C so pure and natural.
Directions
For 500 mg of Vitamin C take 4 capsules daily.  For 1000 mg take 4 capsules twice daily.
Free Of
Artificial flavoring, artificial preservatives, lactose, milk, preservatives, soy, sugar, wheat and yeast.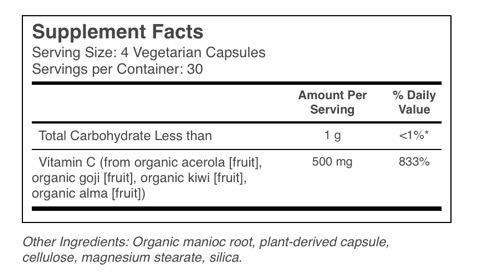 120 Vcaps in each bottle
Customer Reviews
{{'product.product_review.no_review' | translate}}