Description
Plump up your skin's appearance with this water-charged and oil-free certified organic and vegan serum.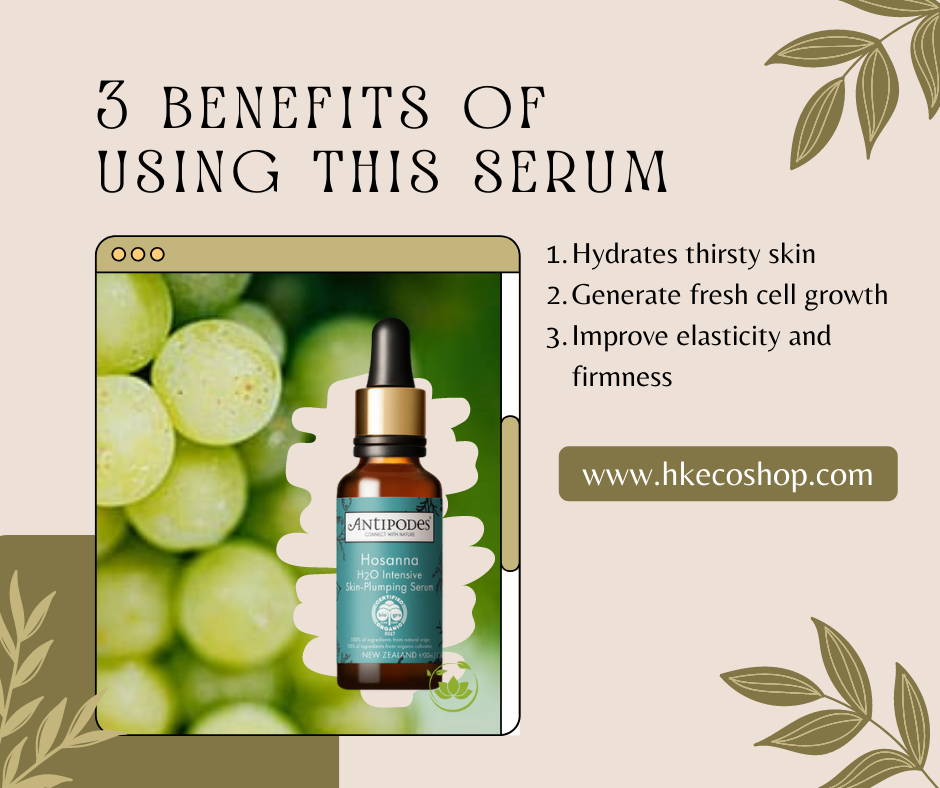 Skin Benefits
Lightweight and fast absorbing, this super serum quenches thirsty skin, while helping to improve your skin's radiance over time. Revolutionary antioxidant rich Vinanza®Grape from New Zealand sauvignon blanc grapes helps offer resistance to environmental aggressors and pollutants, which may lead to diminished skin appearance. Extract of mamaku black fern helps skin look renewed, making this serum an everyday essential. Suited to most skin types, especially dehydrated
Scientifically Validated
Scientifically shown to stimulate Type I collagen production in human fibroblast skin cells by up to 72%*. *Trinity Bioactives: Independent Blind Study In-Vitro Scientific Investigation into the Effects of Antipodes® Products on the Production of Type I Collagen in Human Skin Fibroblast Cells in Culture (2009).
Ingredients: Lavandula angustifolia (Lavender) Hydrosol*, Aqua (Waiwera®) Water, Naticide® (Parfum), Cyathea medullaris (Mamaku Black Fern) Leaf Extract, Xanthan Gum, Caprylyl/Capryl Glucoside, Vitis vinifera (Vinanza® Grape) Seed Extract. Fragrance of French Rose & Cardamon: Citral, Citronellol, Limonene, Farnesol, Geraniol, Linalool. *Certified organic by BioGro
Formulated without: Antipodes products are completely free from: parabens; sulphates; phthalates; silicon derived ingredients; synthetic fillers; genetically modified (GM) ingredients; genetically engineered (GE) ingredients; animal ingredients (except ingredients from living bees, such as honey); artificial colors; artificial fragrances; chemical sunscreens; mineral oils; petrochemicals (like propylene glycol); BHA (butylated hydroxyanisole); ethanolamines and ethoxylated ingredients.
Net volume: 30ml
Product of New Zealand
Customer Reviews
{{'product.product_review.no_review' | translate}}