Description
Dermodacyn disinfectant solution HK 

Officially approved to kill COVI-19 by Australian Government, view report click here, ATG NO: 292455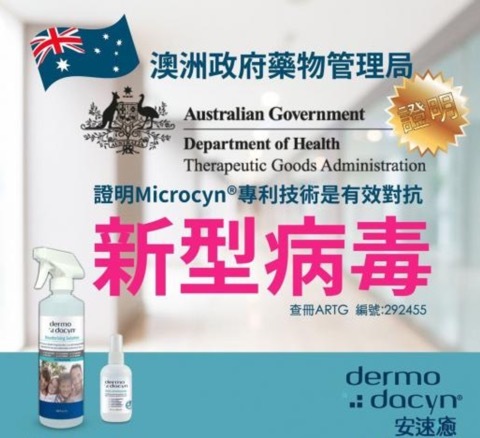 Dermodacyn Disinfecting Solution (1L) are the best air purifier set that reaching medical graded Hypochlorous acid (HOCl) product.
Eliminates99.99% of bacteria and viruses including H7N9, H5N1, MRSA, Straph andStrep, S. Aures and E. Coli, human coronas virus.
Suitable for personal use to disinfect glasses, moblie and keys... etc
Noantibiotics, No steriods, No alcohol, Non-irritating, non-staining,non-toxic
Usage Direction:
For external use; Connect the mist sprayer with USB to charge up the sprayer. The red light will be turn off when it is fully charged. Fill up the nano mist sprayer with Dermodacyn Disinfecting Solution to sterilise air or personal belongings (No need to dilute with water, do not mix with other liquids and essential oils). Rinse the sprayer and allow to dry when not in use.Use only Dermodacyn Disinfecting Solution in nano mist sprayer.
If used as a surface cleaner, simply spray on the surface to be disinfected.Shake well before use. Spray an appropriate amount of Dermodacyn Disinfecting Solution directly on the surface of household products,floors, kitchen utensils, toilets, toys, cars, etc., and allow it to dry naturally without cleaning, helps prevent the spread of bacteriaand viruses.
Points to note:
Keep out of reach of children; Keep container closed when not using; Keep away from direct sunlight; Do not freeze; Store in room temperature; If irritation occurs, stop using the product and consult your physician if neccessary
Ingredients:
Electrolyzed Water (99.962%), Sodium Chloride (0.023%),ancillary substances: Sodium Hypochlorite (0.0020%) and Hypochlorous Acid (HOCl)(0.0130%)