Description
Infused with Thyme-Capsuled™ to promote hair growth. Fortified with Pre + Probiotics to restore scalp balance. Enriched with Bergamot Essential Oil to boost nutrients and oxygen to the hair. Enhanced with Ginger and Ginseng Extracts to strengthen hair bulb. Your scalp is fortified and energized; your hair is happy and resilient.
Its groundbreaking formulation retains the cleansing power and pleasurable lather of liquid shampoos, yet is 100% vegan, free of nasties and spearheads a revolutionary new way of sustainable shampooing. 
Product description:
Natural Ingredients: Free of harsh chemicals like sulfates, phthalates or synthetic fragrances, suitable for color-treated hair and all scalp types

Anhydrous formula: No water is added in the ingredients and production process. The anhydrous formula helps The Powder Shampoo save about 5 liters of water during production. And a 100g capacity can be used over 100 times (130 times for shoulder length hair)

Plastic-free: Compared with plastic that is difficult to recycle and reuse, aluminum with a higher recycling rate is used as packaging, while refills are packaged in special paper, which is also 100% recyclable

Vegan Cruelty Free: Made with 100% naturally derived plant-based ingredients and guaranteed never to be tested on animals

Reduce carbon emissions: The anhydrous formula greatly reduces the weight of shampoo powder, which not only facilitates transportation and reduces costs, but also helps reduce carbon emissions by nearly 90%. Moreover, The Powder Shampoo promises to plant a tree to offset global carbon emissions for every product sold. When you buy this shampoo powder, we can do our part to offset climate change and protect Mother Earth.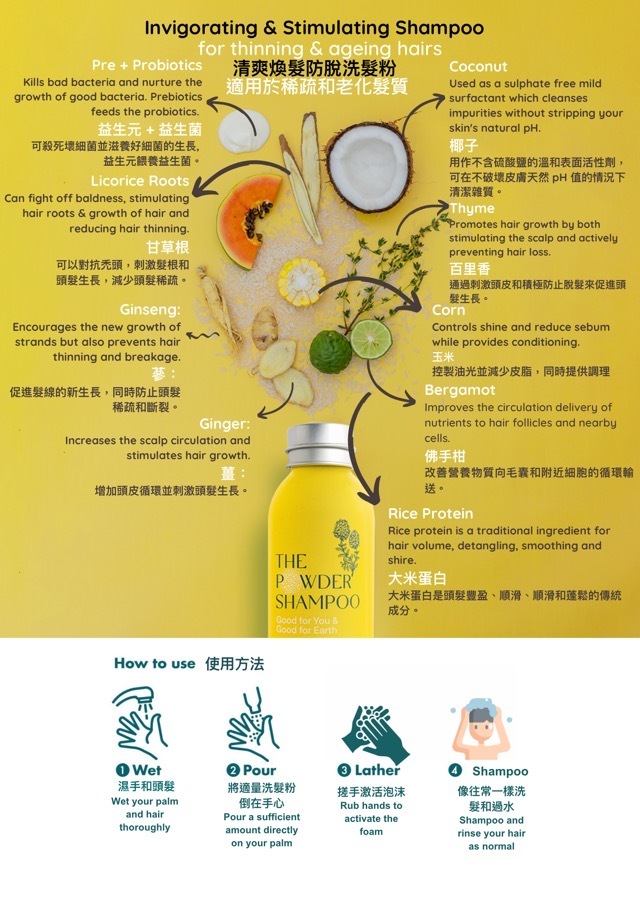 Active ingredients and their benefits:
Pre+Probiotics:
Kills bad bacteria and nurtures the growth of good bacteria. Prebiotics feed the probiotics.
Licorice Roots:
Can fight off baldness, stimulating hair roots & growth of hair and reducing hair thinning
Papaya Enzyme:
The enzymes in papain can decrease inflammation by removing dead skin cells that clog pores.
Ginseng:
Strengthens the follicles and hair roots, and enhances the proliferation of dermal papilla, to prevent hair loss and support a better growing environment. The active compounds also help prevent hair breakage, increasing overall hair density.
Ginger:

Increases skin and scalp circulation and blood flow, leading to increased cell turnover, a.k.a. more hair growth, and newer, fresher skin. The vitamins, minerals, and fatty acids in ginger can invigorate the skin and hair, preventing hair loss and skin dullness.
Thyme:
Promotes hair growth by both stimulating the scalp and actively preventing hair loss. Soothes the scalp of inflammation and irritation, and is antibacterial, antifungal, and antioxidant-rich so can help improve your scalp and follicle health.
Bergamot:
Improves circulation and increases the delivery of nutrients and oxygen to the hair follicles. Hair fibers are more nourished and start growing significantly so you see fuller, thicker hair and lessened hair loss over time.
Rice Protein:
Rice Protein is a traditional ingredient for hair volume, detangling, smoothing and shine. 
Ingredients:
Sodium Cocoyl Isethionate (Coconut), Zea Mays Starch (Corn), Corn Starch Modified, Citrus Aurantium Bergamia Fruit Oil (Bergamot), Panax Ginseng Root Extract, Zingiber Officinale Root Extract (Ginger), Betaine (Sugar Beet), Salicylic Acid (Willow Tree Bark), Alpha-Glucan Oligosaccharide (Prebiotics), Pyridoxine HCl (Vit B6), Dextrin (Corn), Xanthan Gum (Guar), Hydrolyzed Rice Protein, Amylopectin (Vegetal Starch), Guar Hydroxypropyltrimonium Chloride, Papain (Papaya Enzyme), Polymnia Sonchifolia Root Juice (Jicama Tuber), Maltodextrin (Vegetal Starch), Ectoin, Dipotassium Glycyrrhizate (Licorice Root), Thymus Vulgaris Leaf Oil (Thyme), Biotin (Vit B7), Lactobacillus (Probiotics).
Net weight: 100g (for approx. 100x washes depends on hair length)
Product of Singapore.